Back
DynAlp
Dynamic Adaptation of Urban Water Infrastructure for Sustainable City Development in an Alpine Environment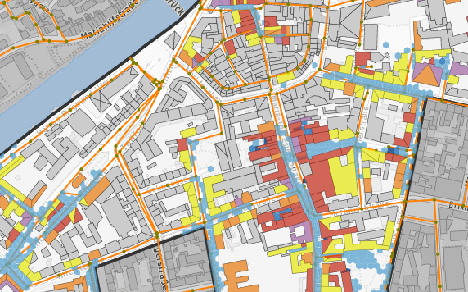 In urban or densely populated areas, the risk of flooding is frequently neglected. Urban flooding is often due to the insufficient infiltration capacity of the subsurface or the overload of water infrastructures during severe precipitation events.
The city of Innsbruck was used as a pilot site for the development and application of a comprehensive urban flood risk analysis and management framework. The current risk situation and potential future pathways were analysed. The main drivers within the framework are climate-induced changes in the frequency and magnitude of severe precipitation events, projected residential developments, and impacts of these two factors on an ageing sewer network.
Based on a coupled city and sewer network model reflecting the current status, potential pathways were simulated (urban development, ageing of the sewer network, severe precipitation events), and the implications of adaptation measures within the sewer network were described. By means of a vulnerability and risk analysis, critical locations were identified. The results have been made available through a dynamic WebGIS-applikation.
Period:
06/2012 - 05/2015
Back