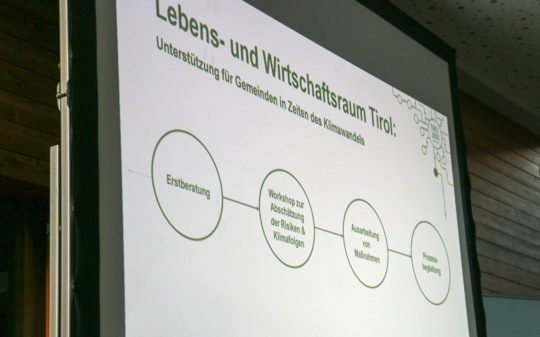 Foto: Gisela Egger
Municipalities face considerable challenges. These include, among other things, the depopulation of rural areas and simultaneous urbanization, climate change, and the need to maintain or improve infrastructures. And all this under the pressure of tight budgets and a delicate process of negotiating among different interests.
Public administrations are tasked to carry out a very wide range of activities, and often even stretched beyond their capacity. Under these circumstances, finding time and space to tackle longer-term challenges that are not part of their daily workload – such as climate change – is often difficult.
We support you in creating the space for tackling these issues. We bring everyone on board, skeptics and doubters as well as enthusiasts and those willing to take action. We help to ensure all participants feel their concerns are considered and they are included, making issues such as climate change adaptation and climate protection tangible.
We analyze and evaluate existing and future risks in your municipality connected to climate change adaptation, identify relevant climate impacts, and evaluate the vulnerability of your systems together with local experts. Based on this, joint measures for adaptation to climate change are developed and sustainable changes initiated.
For climate protection, we support you in developing comprehensive concepts for longer-term energy-space planning. We take stock of energy consumption in your municipality in order to ascertain where the greatest potential for renewable energy lies. Through the most recent technical innovations, we help you not only in reducing your ecological footprint, but also in reducing costs over the long term.
In addition, we can also assist you regarding civil protection and water management issues, as well as the increasingly important challenges of digitization and managing GIS systems and databases.
And who will pay for this? We also help you to identify financing options and guide you through the jungle of supporting measures available.