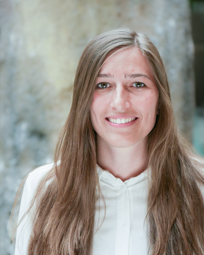 Hanna Krimm MSc
Research & Consulting
Life Sciences, Biology and Mathematics
Hanna Krimm completed her studies in biology and mathematics with a state examination at the University of Ulm. Since 2016, she has been working on climate change adaptation in research projects and community and regional advisory programs. She highlights the consequences of climate change and develops strategies for adaptation to climate change in participatory processes with local actors.
Responsibilities:
Consultant area Climate Change Adaptation
Junior Researcher alpS Research
Projects (selection):
Support of Tyrolean municipalities in times of climate change
SINFONIA - Smart INitiative of cities Fully cOmmitted to iNvest in Advanced large-scaled energy solutions; work package stakeholder involvement
CLIMA-MAP - climate impact maps for Austrian regions
Creation of a brochure on climate change adaptation in tourism for the Climate Change Center Austria
Preparation of fact sheets on the effects of climate change on different sectors and federal states in Austria
Vulnerability and risk analysis for the community Wolfurt
Preparation of the Salzburg adaptation strategy (part I and part II)
Publications (selection):
Kubisch S, Krimm H, Liebhaber N, Oberauer K, Deisenrieder V, Parth S, Frick M, Stötter J, Keller L (2022): Rethinking Quality Science Education for Climate Action: Transdisciplinary Education for Transformative Learning and Engagement. Frontiers in Education, section STEM Education. Volume 7, Article 838135, pp. 1-14.
Schrot O G, Krimm H, Schinko T (2020): Enabling Early Career Sustainability Researchers to Conduct Transdisciplinary Research: Insights from Austria. Challenges in Sustainability. VOl 8, Issue 1, 2020, pp. 30-42. Doi: 10.12924/cis2020.08010030.
Hohenwallner-Ries D, Schwab K, Huber T, Krimm H (2018): Der Österreichische Tourismus im Klimawandel – Betroffenheit, Handlungsempfehlungen und Best practice bei der Anpassung an den Klimawandel. Climate Change Centre Austria – Klimaforschungsnetzwerk, Graz.
Sperka G, Zeiner M, Hofmeister F, Waltl P, Hohenwallner-Ries D, Schwab K, Fricken D, Huber T, Krimm H (2017): Strategie zur Anpassung an den Klimawandel in Salzburg. Land Salzburg, Salzburg.
Drissner J, Krimm H, Hille, K (2017): Attitudes of School Children in Germany, Costa Rica and Ukraine Towards Invertebrates-A Comparison. International Journal of Modern Education Research. Vol. 4, No. 2, 2017, pp. 6-9.