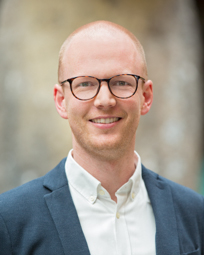 Mag. Maximilian Riede PhD
Management board & Consulting
Geography/Communication
Maximilian Riede has several years of professional experience in the fields of climate change communication, moderation, climate change education and stakeholder participation. In addition to his work at alpS GmbH , he works as a research assistant, project manager and lecturer at the Institute of Geography of the University of Innsbruck. As part of this work, he has authored numerous scientific and transfer-oriented publications. He gave lectures, organized and moderated workshops. In addition, he acts as an external project controller for the monitoring and evaluation of research projects.
Responsibilities:
CEO
Consultant area Climate Change Adaptation
Senior Researcher alpS Research
Projects (selection):
ActAdapt & TripleA - Climate communication projects in collaboration with scientists, teachers, students and representatives from business, politics, administration and civil society
CCAware - Strategic project for theoretical-methodological reflection in the field of climate change adaptation-communication for the intensification of social dialogues on climate change adaptation as well as the methodical support of dialogue group-oriented education and communication approaches
CP Model - Creation of an innovative e-learning platform according to the MOOC concept for administrative employees and community representatives in Italy, Spain, Great Britain, Greece and Austria
Doppelplus - Development and implementation of a monitoring framework to measure the impact of climate change mitigation and adaptation measures
Publications (selection):
Haida C, Chapagain AC, Rauch W, Riede M, Schneider K (2018): From water footprint to climate change adaptation: Capacity development with teenagers to save water. Land Use Policy.
Riede M, Keller L, Oberrauch A, Link S (2017): Climate change communication beyond the 'ivory tower': A case study about the development, application and evaluation of a science-education approach to communicate climate change to young people. Journal of Sustainability Education 12/February, S. 1-24.
Riede M, Haida C, Keller L, Schneitter E (2017): TripleA. Action for Adaptation Awareness. Projektendbericht, Innsbruck, https://www.alp-s.at/cms/fileadmin/images/Downloads/TripleA_Endbericht.pdf
Riede M, Kuthe A, Keller L, Greissing A (2016): Development, application, and impact assessment of a moderate-constructivist intervention to prepare teenagers for challenges of climate change and energy transition. Umweltpsychologie 20/1, S. 39-61.
Oberrauch A, Keller L, Riede M, Mark S, Kuthe A, Körfgen A, Stötter J (2015): "k.i.d.Z.21 – kompetent in die Zukunft". Grundlagen und Konzept einer Forschungs-Bildungs-Kooperation zur Bewältigung der Herausforderungen des Klimawandels im 21. Jahrhundert. GW-Unterricht 139, S. 19-31.
Keller L, Riede M (2015): 4.3 Aufgabenstellung: Klimawandel – Ressourcenknappheit. In: Bundesministerium für Bildung und Frauen, Sektion II: Berufsbildendes Schulwesen: Politische Bildung und Geschichte, Geografie und Internationale Wirtschaft- und Kulturräume. 13. Schulstufe. HAK-spezifische Bildungsstandards in der Berufsbildung. Wien: Bundesministerium für Bildung und Frauen, S. 29-33.
Riede M, Link S, Keller L, Schneitter E (2014): Forschungs-Bildungs-Kooperationen als Schlüssel zu erfolgreicher Bewusstseinsbildung in den Bereichen Erneuerbare Energien, Energieeffizienz, Klimaschutz und Klimawandelanpassung. In: Bachhiesl U: Innehalten und Ausblick: Effektivität und Effizienz für die Energiewende. Kurzfassungsband. 13. Symposium Energieinnovation, 12. - 14. Februar 2014, TU Graz, Österreich. Graz: Verlag der Technischen Universität Graz, ISBN 978-3-85125-310-8, S. 73-74.